They needed an effective and precise solution.
Being situated in downtown Austin, TX, the importance of a vibrant and growing church perception is extremely important. Creating a new, architectural sign design that incorporated a full color LED sign was the unanimous choice to aide in this perception.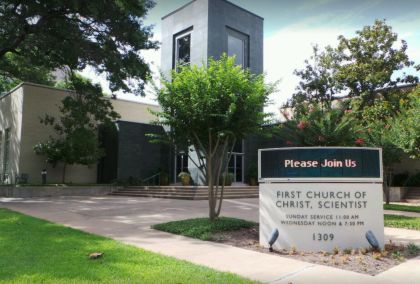 Working through the architectural sign design process, it was determined that the church was seeking an LED sign that was unlike any other. Given this requirement, their biggest challenge was finding a sign partner that could meet this challenge.
 "Working with your Company to accommodate our LED sign, designed by Architect Kristina Olivent, for our curved concrete contemporary monument, which now graces the front of our church in Austin, Texas,was an exercise in excellent co-operation. Your concern for our needs, your quick responses to our questions and needs, your willingness to give us your time and effort at all times was exemplary! We knew, up front, that our design would require a special professionalism to come to fruition as it required special engineering and attention to detail. You provided it at every turn. We are very pleased and grateful for the finished result, beside having the feeling that we have found new friends in your kindness and caring attitudes." – Evalyne Frost, Chairperson, New Signage Committee
We were able to provide a custom full color curved LED sign to mirror a radius that was consistent with their custom cement base.
SPECIFICATIONS:
Business Name: First Church of Christ Scientist
City: Austin
State: Texas
Pitch: 16mm
Matrix: 32 x 144
Dimensions: 2'2" x 8'1" – Curved